Online Resume Builder
Simple. Structured. Easy to Use.
A professional resume is crucial to landing that dream job. We are here to help you get it. With our free resume builder you'll be on your way towards the job of your dreams in no time.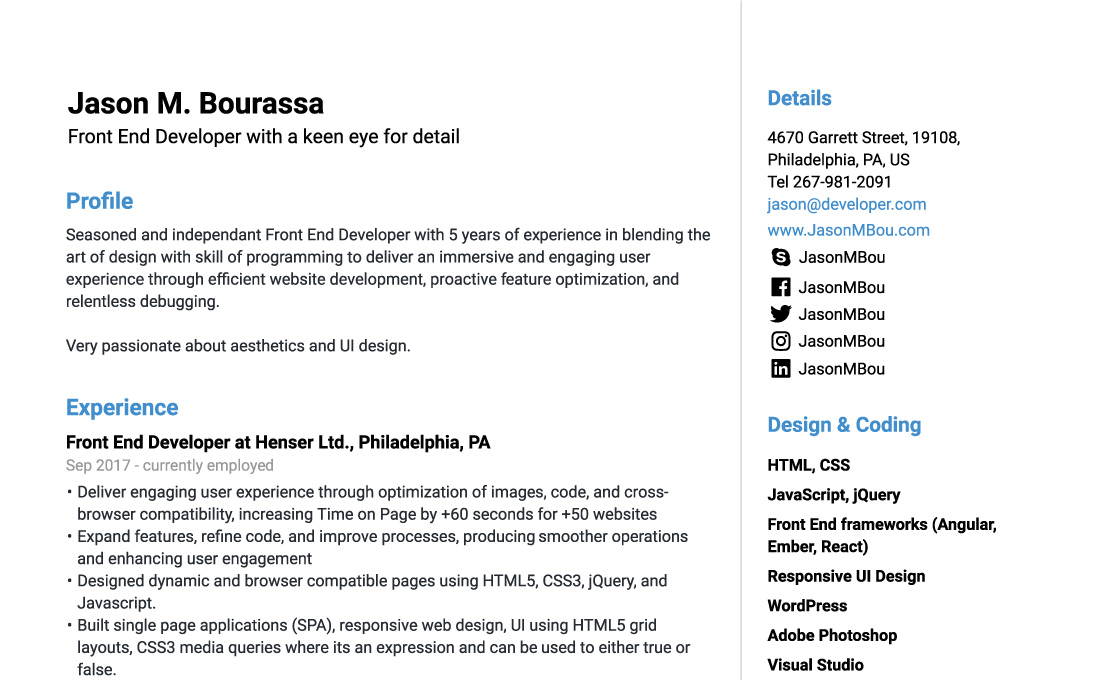 I searched for a resume builder to try out before committing countless hours of resume work by myself, and it turned out Jofibo Resume Builder had it all. Easy to use, professional templates, and 100% free.
- Richard Haines
Start now by selecting one of our free resume templates
After choosing your favorite you'll be one step closer to finishing your free resume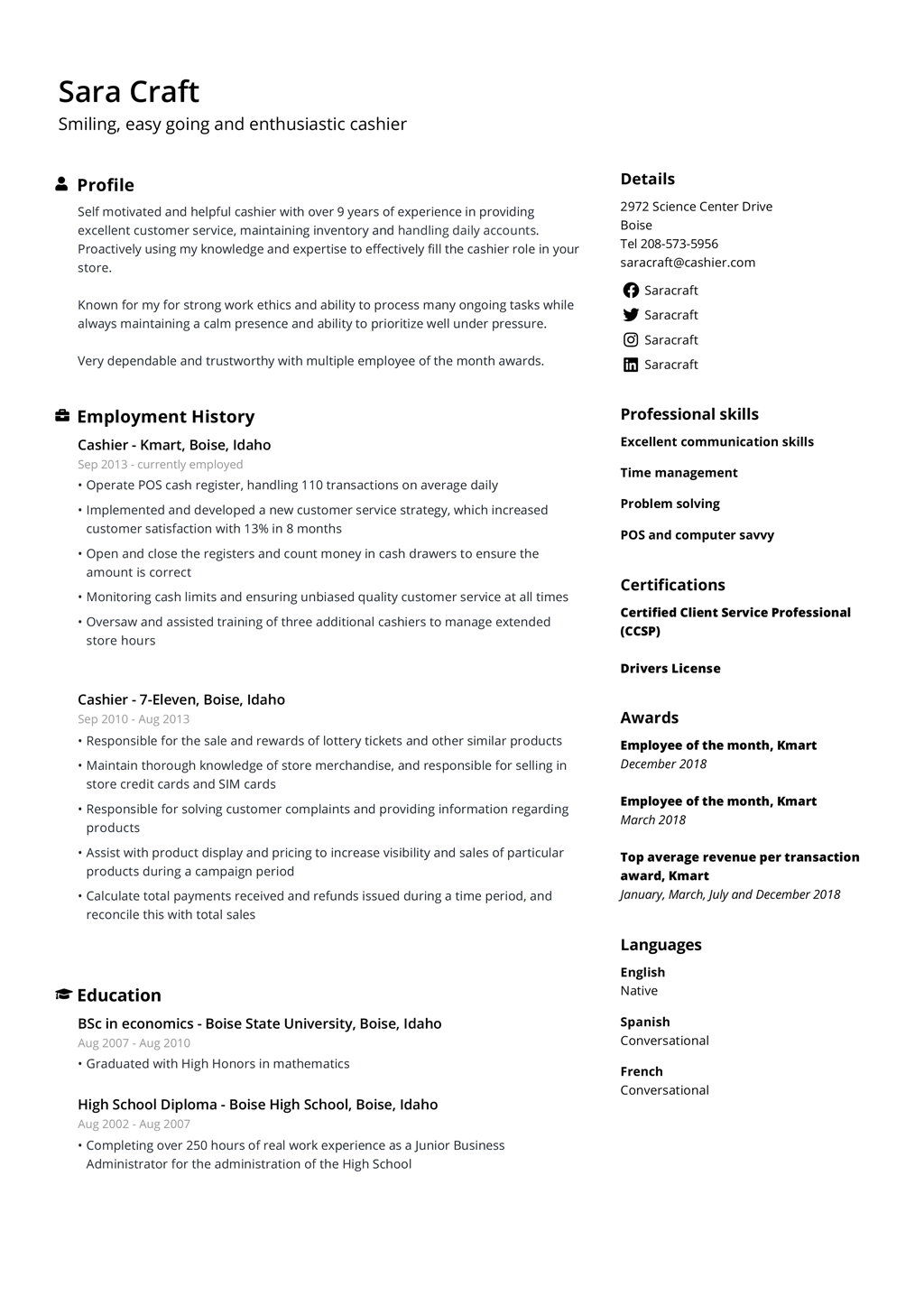 Simple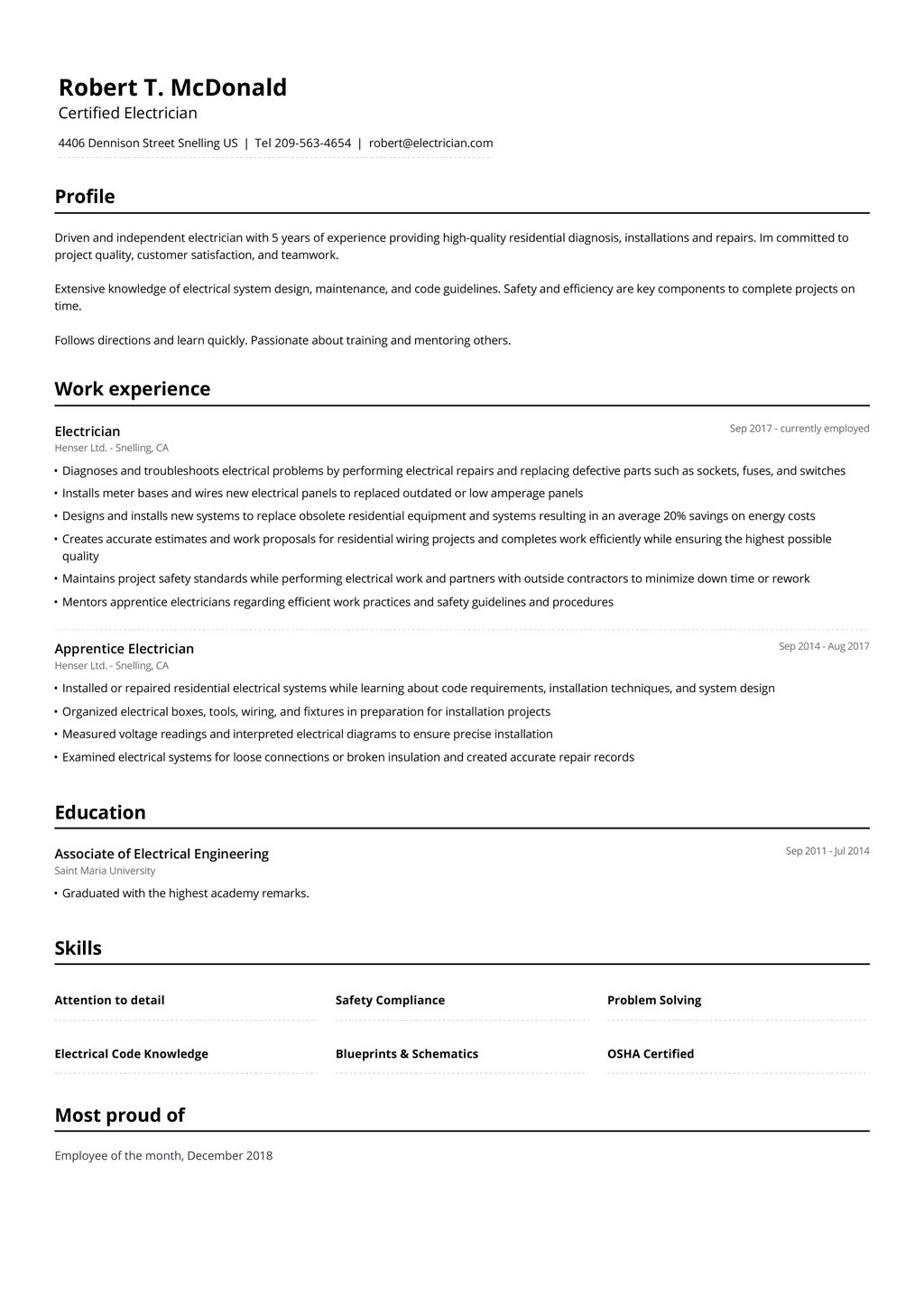 Traditional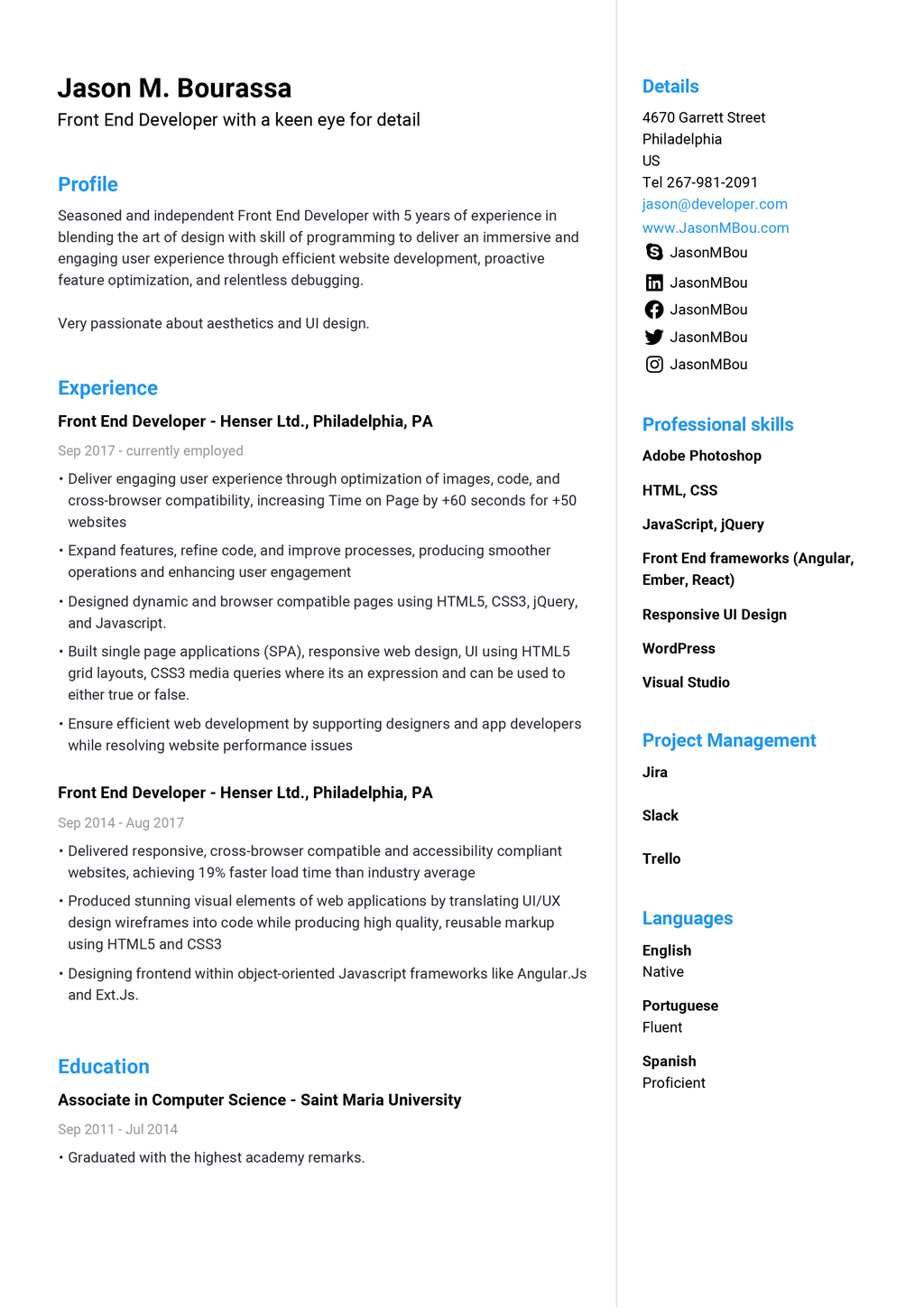 Modern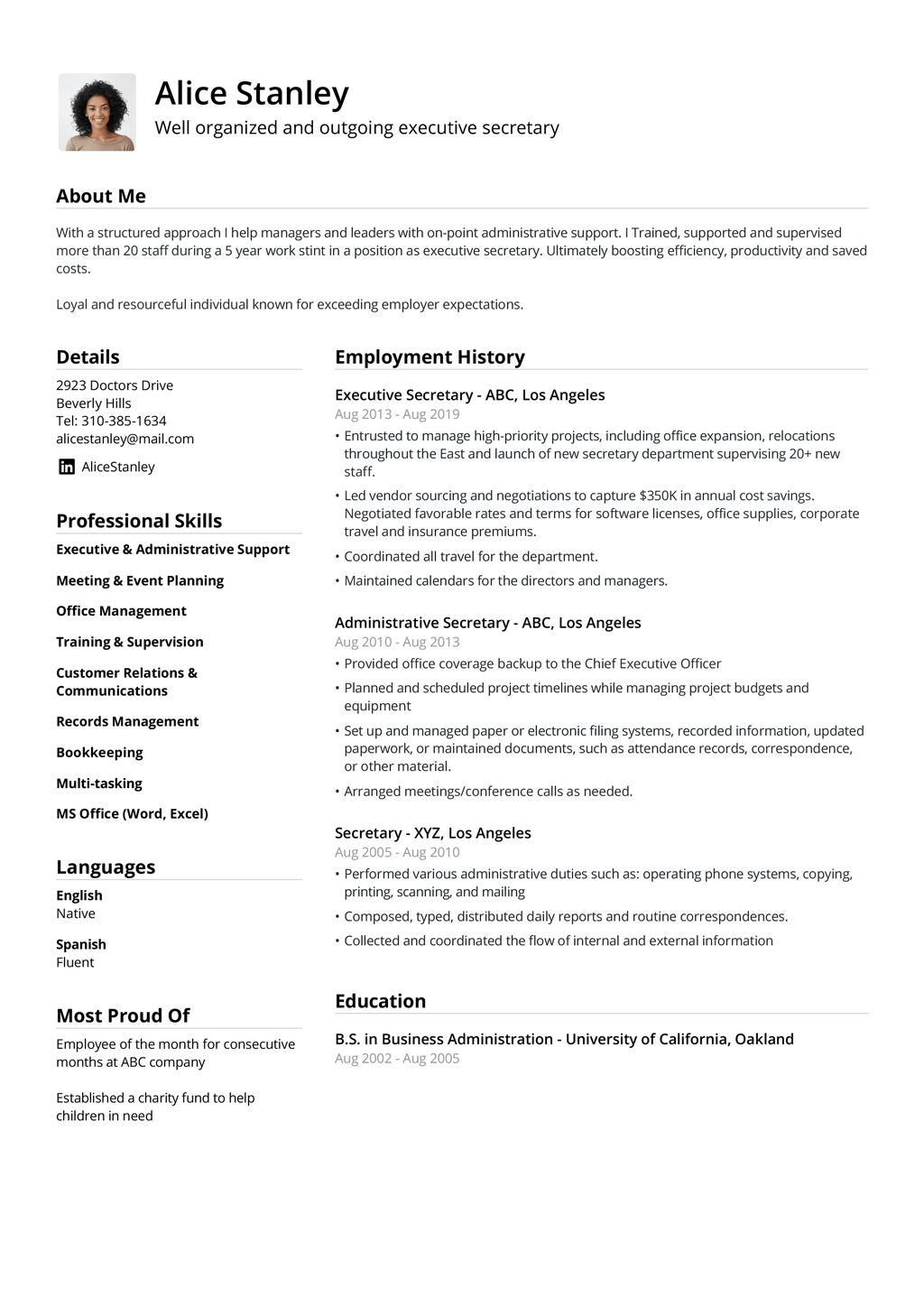 Elegant
Your benefits of using our resume builder
Complete resume customization with our resume builder for free
PDF, Word DOC and TXT download out of the box
Cleanly formatted resume templates and cover letter templates
Secure and GDPR compliant storage of your documents and information
Login options of your choice (Email, Facebook, Google, LinkedIn)
Free career building advice from HR experts
How Jofibo´s resume builder will help you get more interviews
Our free resume builder cleanly formats the resume templates, which of course are ATS compliant. This ensures you stand with a great chance of an interview, and don't have to worry about being rejected by a system or not getting noticed by a recruiter.
There's no need to register right away, just start building your resume and discover the benefits.
You don't have to think about formatting or compliance, only think about what's important, and that's you!
---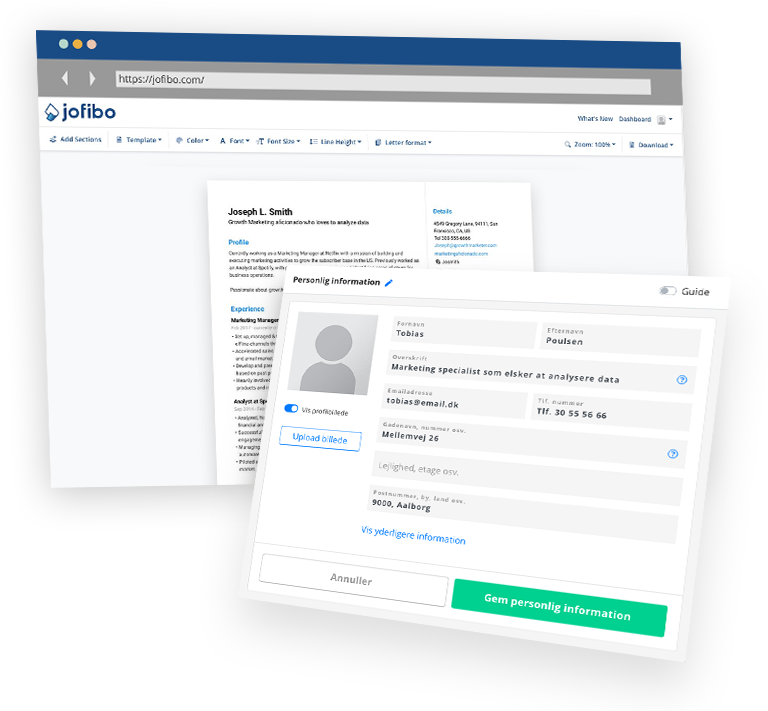 The most simple and intuitive free resume builder
Our software engineers made a simple user friendly resume builder, where you get the same feel as if you were trying to create a resume in Microsoft Word or Google Docs. The feeling of having a complete overview of what you are working on is the core of the builder. We guide you through the resume builder in a structured way, to ensure that you get the resume that you deserve.

Build My Resume For Free
---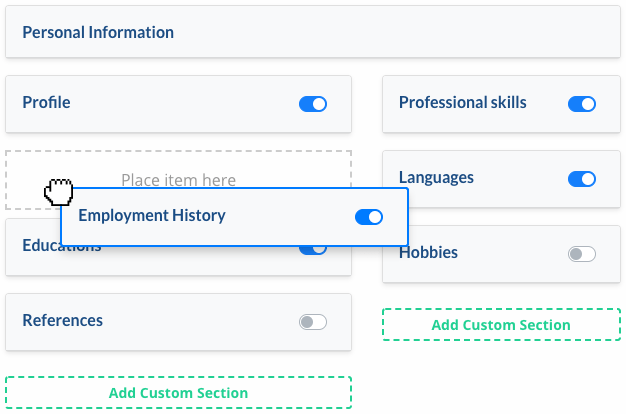 Easy customization
Do you need more sections? Less sections? Just click, drag or add. Other options such as font style, font size, and line height ensures that you can customize and fit in the details you wish.

Our tool is able to analyze your information, and sort the sections without breaking the composition of the flow, top to bottom. 1 or 3 page resume, we have you covered.

PS. We help with Cover Letters too

Build My Resume For Free
---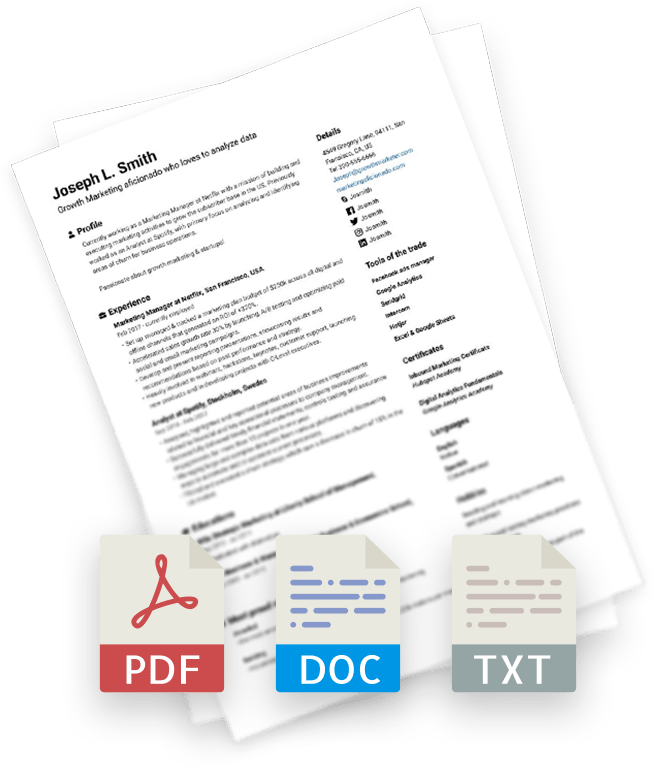 Download, print - done
Once you've created your resume with our resume builder just hit that download button and you're good to go. We made sure that you can export either as PDF, Word DOC or TXT as you never know, which file type format you might need.

Build My Resume For Free
Frequently asked questions
What should I write in my resume?
There are six basic sections that every resume should include: Your contact information, your profile text tailored to the job you seek, work experience, education, and professional skills. However, keep in mind that depending on your work industry, you may need to include additional sections. For example, a plumber should include a section about their licenses and certifications—which you can add easily.
Why do I need to create a new resume for each job I apply for?
No jobs are exactly the same. If you apply for two job positions with the same title, it's very likely that each company highlights different skills, which suit their profile. We recommend that you tailor your resume with your cover letter to each job position in order to address the specific requirements. Most of your basic information is reusable for each resume, but a great profile text which is tailored to the job you seek gets you a long way. It shows you really thought about how you fit into their company.
Can you help with a cover letter too?
Yes! All our resume templates comes with matching cover letters.
Is your resume tool really free?
Yes, our resume tool is free to use for everyone. There are limitations as to how many resumes you can create, but all functions are available to you as a freemium member. If you want to create more resumes and keep track of your job application progress, simply just upgrade to a suitable premium plan.
In what format are the documents stored?
You can choose to download as either PDF, Word DOC or as TXT. The PDF format ensures a presentable and safe document that also appears professional across all devices. As an extra benefit we've ensured that you can download as either Word DOC and TXT as well if you encounter any older application systems during your job hunt.